100390
-
VATESOL - Virginia Teachers of English to Speakers of Other Languages
2398239
Description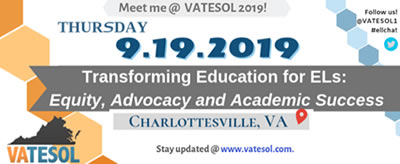 Virginia Teachers of English to Speakers of Other Languages (VATESOL) is happy to be hosting our annual conference in beautiful Charlottesville, Virginia, September 19th, 2019. As an affiliate of TESOL International, our annual conference is an opportunity for members and attendees to connect with TESOL professionals from across the state of Virginia and other parts of the world. Our conference this year includes keynote speakers from the Center for Justice and Peacebuilding, invited speakers, and presentations from practitioners and scholars in the field of English language teaching. If you have any questions, please contact VATESOL at vatesol@gmail.com. We look forward to seeing you in Charlottesville in September!
Registration Includes:
Access to all sessions, including keynote address and invited speakers
Coffee break & snacks
Buffet Lunch (Hot and cold options)
1 yr professional membership to VATESOL
Notes
Online Group Registration, allows up to 5 attendees to view from a single IP address.
Student Discount Information: As a TESOL affiliate, we adhere to their definition of student: "Full-time student status is defined as 3 or more (3+) credits at PhD level, 6+ credits at master's/graduate level, or 12+ credits undergraduate level per term/semester. Student members must have been able to meet this criteria at any point of the membership year in which they join."The purpose of our discount is to make conferences more accessible to future VA teachers and teacher-educators." Students may be asked to verify their student status.
Required fields are indicated by .